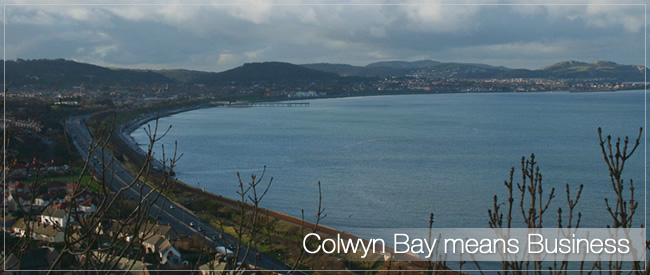 Bay of Colwyn Business Network
NEWS:
Colwyn Forties Festival of Food and Fun Saturday 20th and Sunday 21st April 2013

Free Camping Now Available. Booking essential email richard.orme@eirias.org.uk or ring Richard on 01492 577914


The festival will include live music, battle reenactments, fashion, cookery demonstrations and local food producers, showing the vibrancy of the area ...more

Bay of Colwyn Business Network is run by businesses for businesses in Colwyn Bay, Rhos on Sea & Abergele. Do you run a business based in The Bay? Do you work within a business based in The Bay? Would you like to be able to inter-trade with other local businesses and raise the profile of Colwyn Bay, Abergele & Rhos-on-Sea.

We know you are the best at what you do, but this may not leave you the time to market yourself to generate more business. Would you be interested in joining the Bay of Colwyn Business Network? We're looking for businesses who want to see The Bay enhance it's vibrant business community.

Activities include:
Various Events, Open Days & Open Evenings, Cross Promotions with other Bay businesses, Referral and recommendation scheme.

This is a group run by businesses within The Bay for The Bay, so we're looking for business people to come forward.

It's FREE to join for businesses within The Bay. Email info@colwynbaybusiness.co.uk to register your business.
WE NOW OFFER ALL BAY OF COLWYN BUSINESS NETWORK MEMBERS THE OPPORTUNITY TO PROMOTE THEIR BUSINESS FOR FREE ONLINE.